Amigo, 
Imagina que eras tu com o teu filho nos braços que tinhas de deixar o teu país, escondido, a fugir da guerra e da fome, desesperado por encontrar um sítio no mundo onde pudesses recomeçar e dar ao teu filho tudo aquilo a que ele tem direito. 
Agora que imaginaste, vê a realidade do que se está a passar na Europa. 
As crianças que fogem da guerra também são nossas crianças, também elas têm o direito de ter um futuro e construir um mundo melhor. 
Não podemos ficar indiferentes a este problema, está nas nossas mãos impedir isto.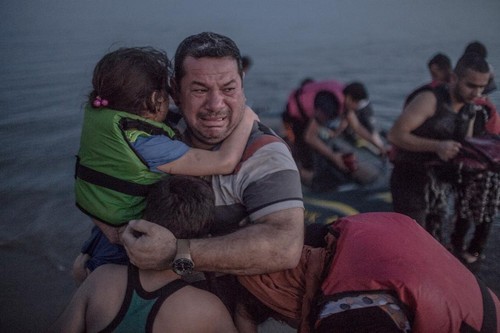 Photo: Daniel Etter for The New York Times
Friend,
Imagine that you were the one with your child in your arms, that you had to leave your country, hiding, fleeing from war and hunger, desperate to find a place in the world where you could start over and give your child everything to which he is entitled.
Now that you have imagined that, you can see the reality of what is happening in Europe.
The children fleeing war are also our children, they too have the right to have a future and a better world.
We can't stay indifferent to this problem, it is in our hands to stop this.