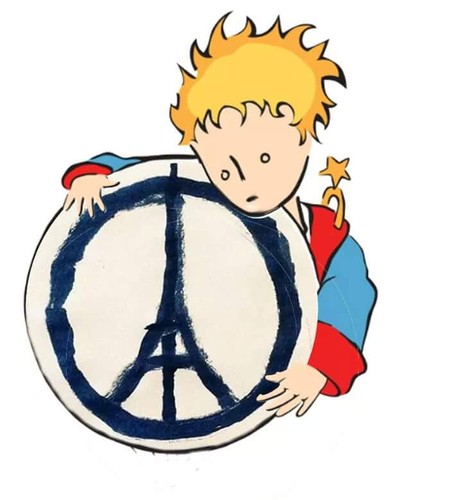 O que passou ontem em Paris, encheu-me o coração de tristeza.
Seja qual for o nosso Deus, nada justifica que se mate inocentes em seu nome.
É destas pessoas que os refugiados fogem, é destas pessoas que as mães e os país correm todos os riscos do mundo para salvar os seus filhos.
Devemos ser grandes, enormes, para combater o medo com que os terroristas nos querem prender, devemos ser fortes, corajosos, para combater com todo o humanismo do mundo aqueles que fazem da guerra o seu modo de vida.
Deixo-vos uma música do compositor português Pedro Abrunhosa, que diz mais ou menos isto, seja qual for o nosso Deus, o AMOR deve ser o nosso caminho.
Os meus sentimentos para as famílias das vitimas dos atentados de Paris.
Abraço a todos.
What happened yesterday in Paris, filled my heart with sadness.
Whoever your God is, nothing justifies killing innocent people in his name.
It is these people that refugees flee from, it is from these people that mothers and fathers run all risks in the world to save their children.
We should be big, huge, to fight the fear that terrorists want us to hold, we must be strong and brave to fight with all humanism in the world those who make war their way of living.
I leave you one Portuguese composer's music, Pedro Abrunhosa, that says something like this, whoever your God is, Love should be our way.
My feelings for the families of the victims of the attacks in Paris.
Hugs to everyone.
You can pray to your God that I pray to mine,
Perhaps my God is yours,
Because there is only one God in our sky,
It's called L.O.V.E.
It is called
L.O.V.E.
My God does not use bullets or blows himself up in the crowd,
May your God does not use irons or hides in Holy Inquisition,
Because each one has a God on his hand,
And our is called
L.O.V.E.
And one asks far away and I say:
L.O.V.E.
And if my God was a woman, and yours too,
And if everyone kissed on the mouth and in the sky we heard, 'Amen!'
For all the gods have a Mother's fate 
And ours is L.O.V.E..
It isn't another God than
L.O.V.E.
And someone far away tells me it's called
L.O.V.E.
And there are poor and foolish who says:
L.O.V.E.
You can ask my God that I'll pray to yours,
To give us Peace and Light and the Life which no hate has won,
Because you know that where this God is you will be, I will be,
It is a God who goes by the name
L.O.V.E.
And you ask this god's name and I say:
L.O.V.E.
And the sad and the weak say:
L.O.V.E.
And there are few madmen who don't have
L.O.V.E.
And that's why I want you to say with me L.O.V.E.
And someone on the street says
L.O.V.E.
And I say again
L.O.V.E.
It's called
L.O.V.E.